26 Apr

The perfect guide of Kimono for Ladies

Hi ladies~ come in to see what Kimono suit you the most?
You have clicked the right website!
Here, you will be explored to different types of Kimono and when is the best season to wear it!

The kimono is perhaps the most iconic item of traditional Japanese clothing. The literally meaning "thing to wear" (着物).
There are a dozen classifications of kimono, with grades and ranks fixed by differentiation in design, material and pattern.
They may all look similar, but each presents a different fabric and design.

Here are different types of Kimono, they are ranked in the increase politeness level:

Yukata (浴衣): "Bath clothing." Casual cotton kimono.

Komon (小紋): "Fine pattern." Silk kimono for going out, featuring a small, repeated pattern all over the garment.

Furisode (振袖): "Wavy sleeves." Long-sleeved, formal silk kimono for unmarried women.

Irouchikake (色打掛): "Colored fastened sleeves." Formal silk kimono for married women, usually emblazoned with three family crests, though possibly one or five.


Shiromuku (白無垢): "White fastened sleeves." Highly formal silk kimono for married women"
*Irouchikake and Shiromuku are equally polite.

Below is the table of what type of Kimono is recommended under different circumstances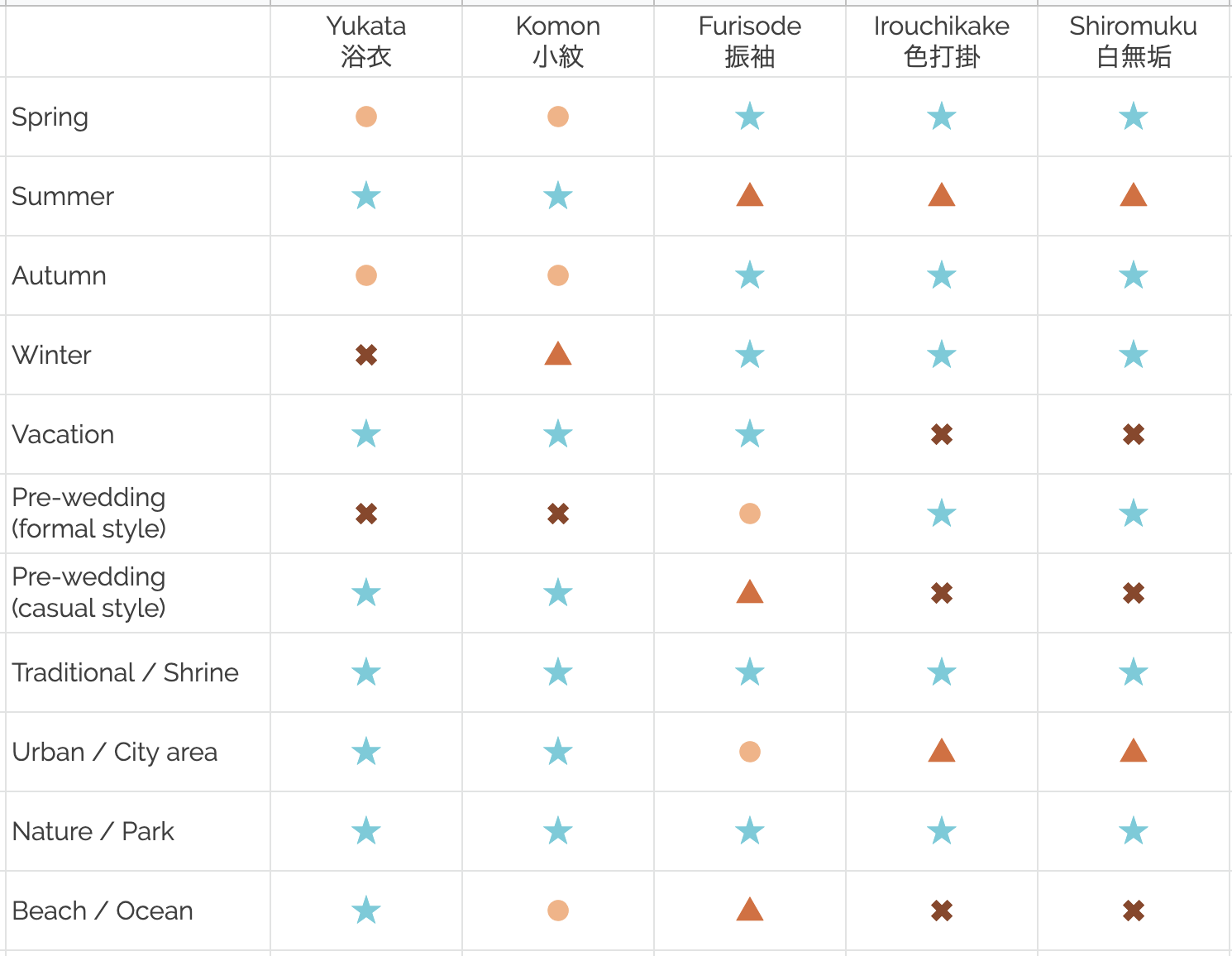 Yukata (浴衣)
Although Japanese people now wear kimono when they have ceremonial occasions such as weddings, they rarely wear them in their daily lives.

However, there has been a recent boom in re-embracing historical Japanese traditions, and young women will take to wearing Yukata (浴衣, informal cotton kimono) when sightseeing in ancient towns such as Kyoto or Kamakura, or going out to enjoy festivals and fireworks events.
In most of the city, there are rental shops provide casual Yukata for foreign visitors.
The cost is normally affordable (about JPY 15,000).
Also, Yukata is more for vacation shoot, therefore most photographers do not provide a package with yukata.
You can make the appointment by yourself and meet the photographer at the discussed location.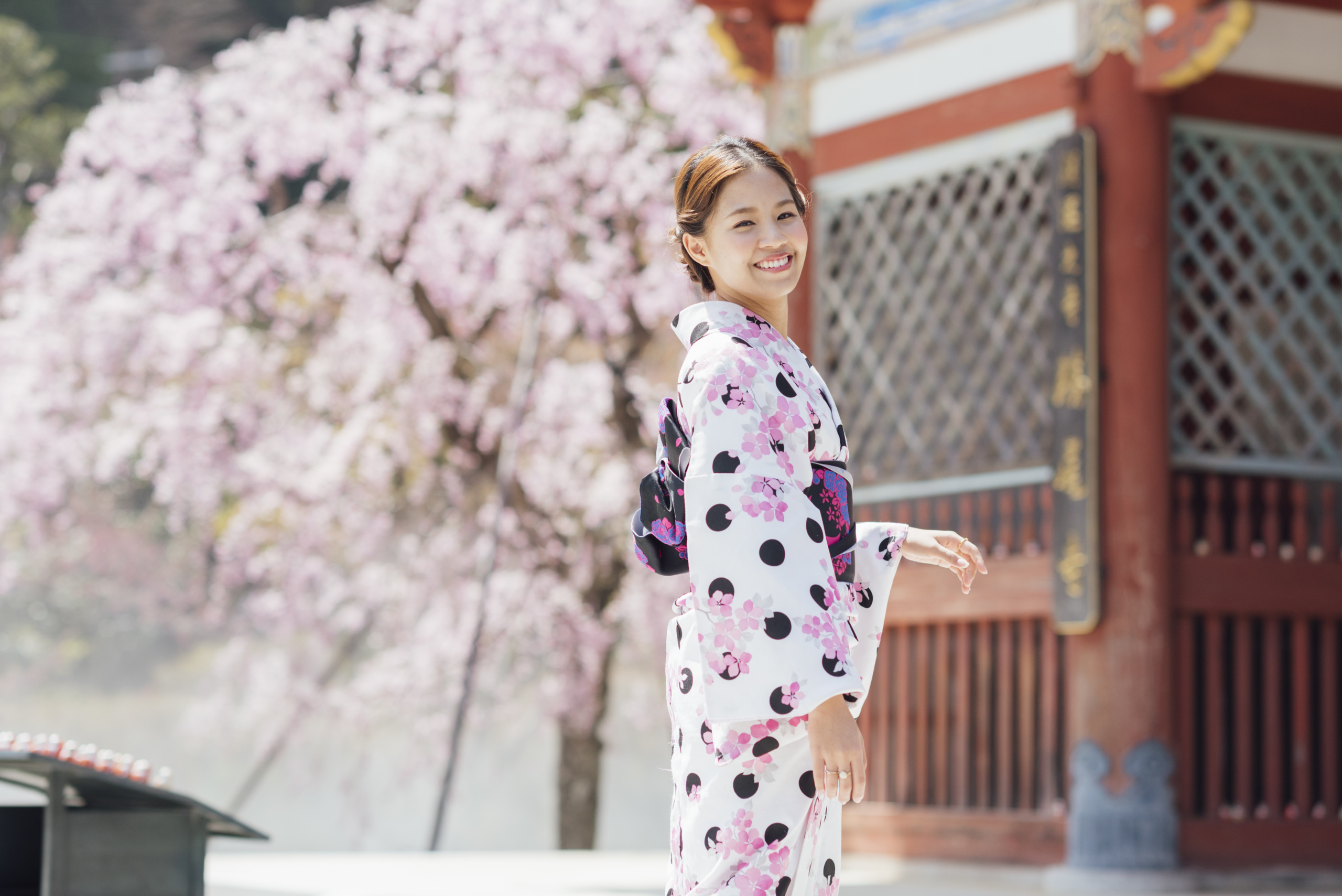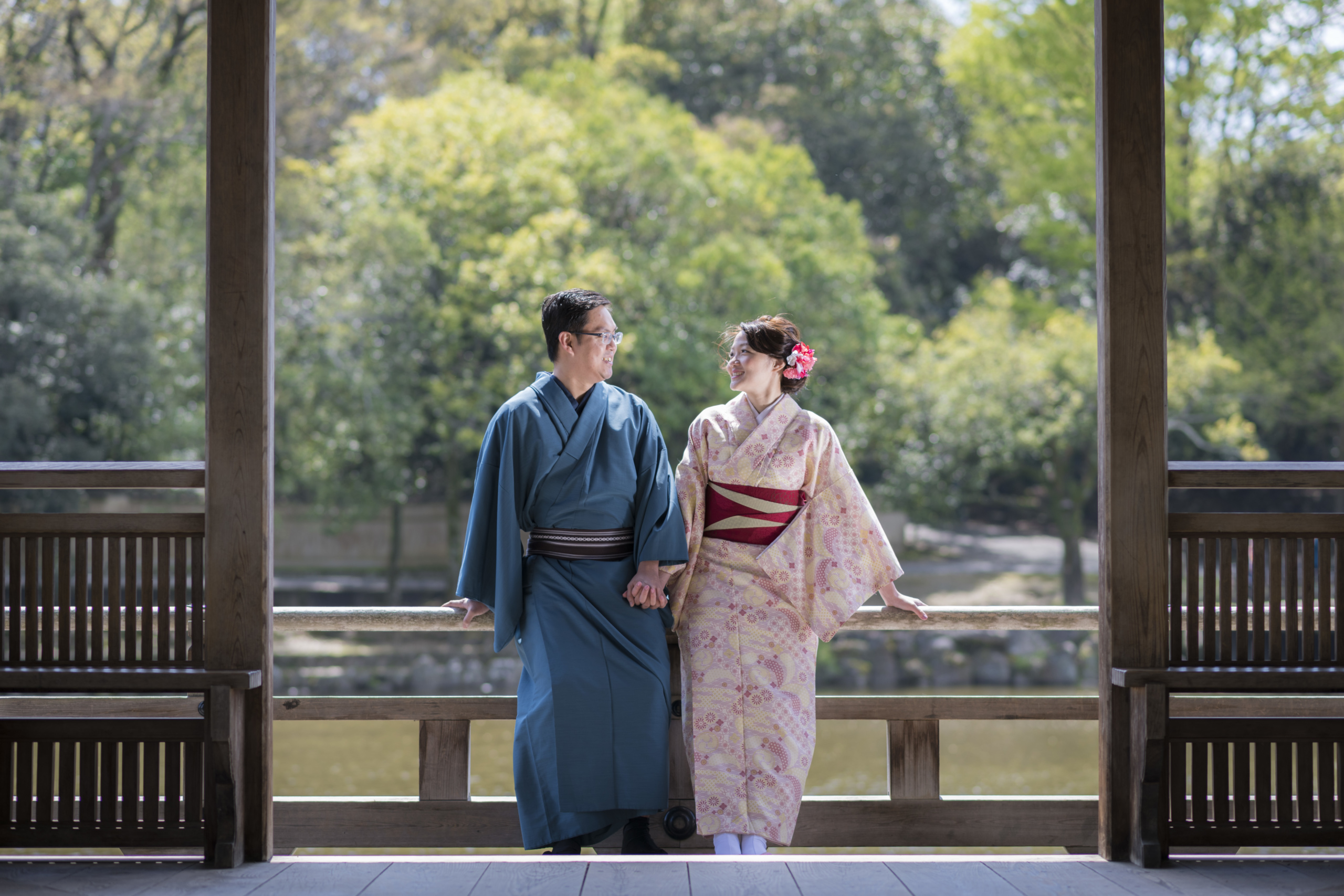 Yukata is generally worn during summertime from June until September whereas Komon will be more suitable in spring and autumn.
During autumn, the temperature may be low. If you would like to keep warm, you can wear a jacket outside of Yukata.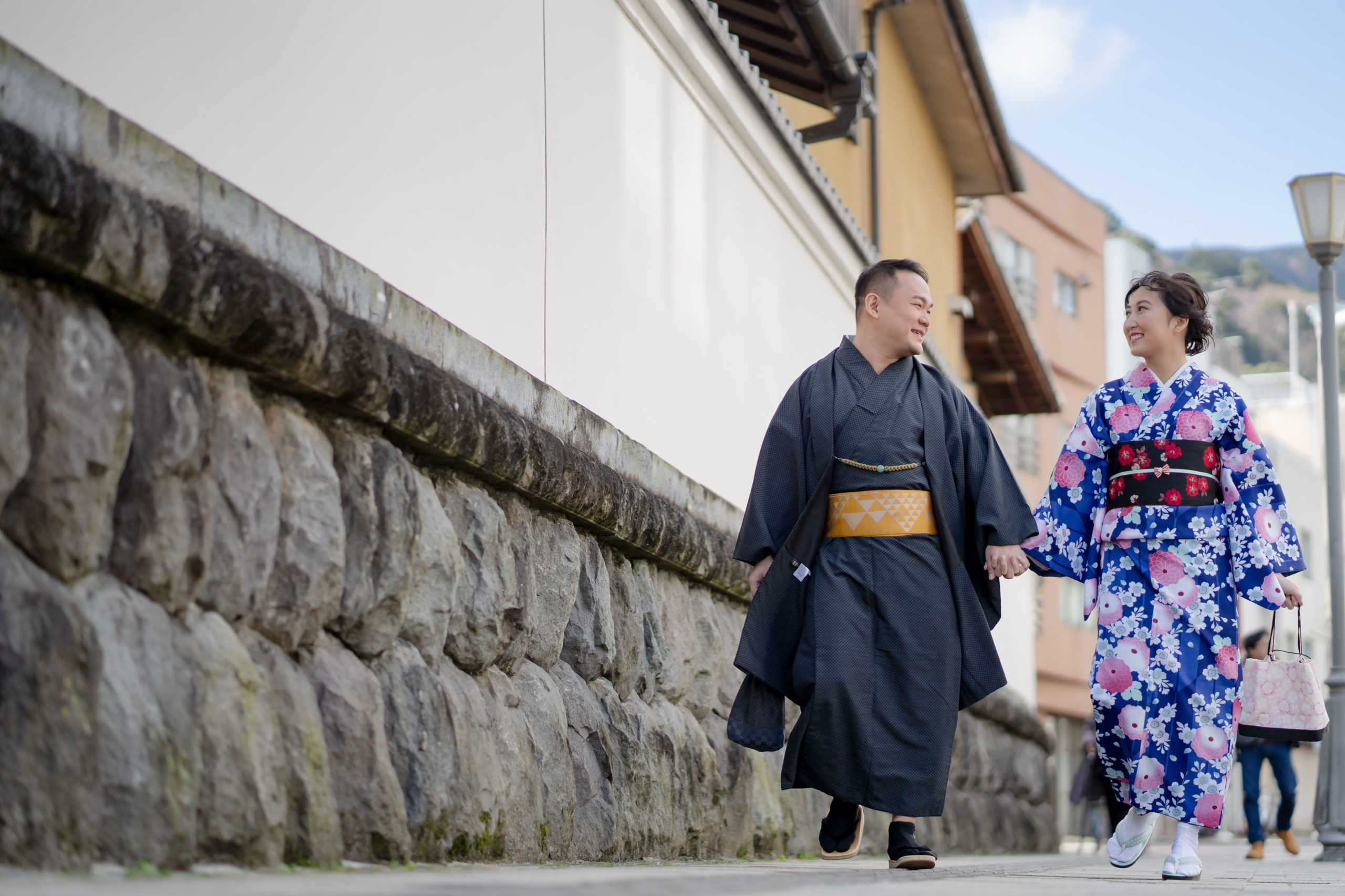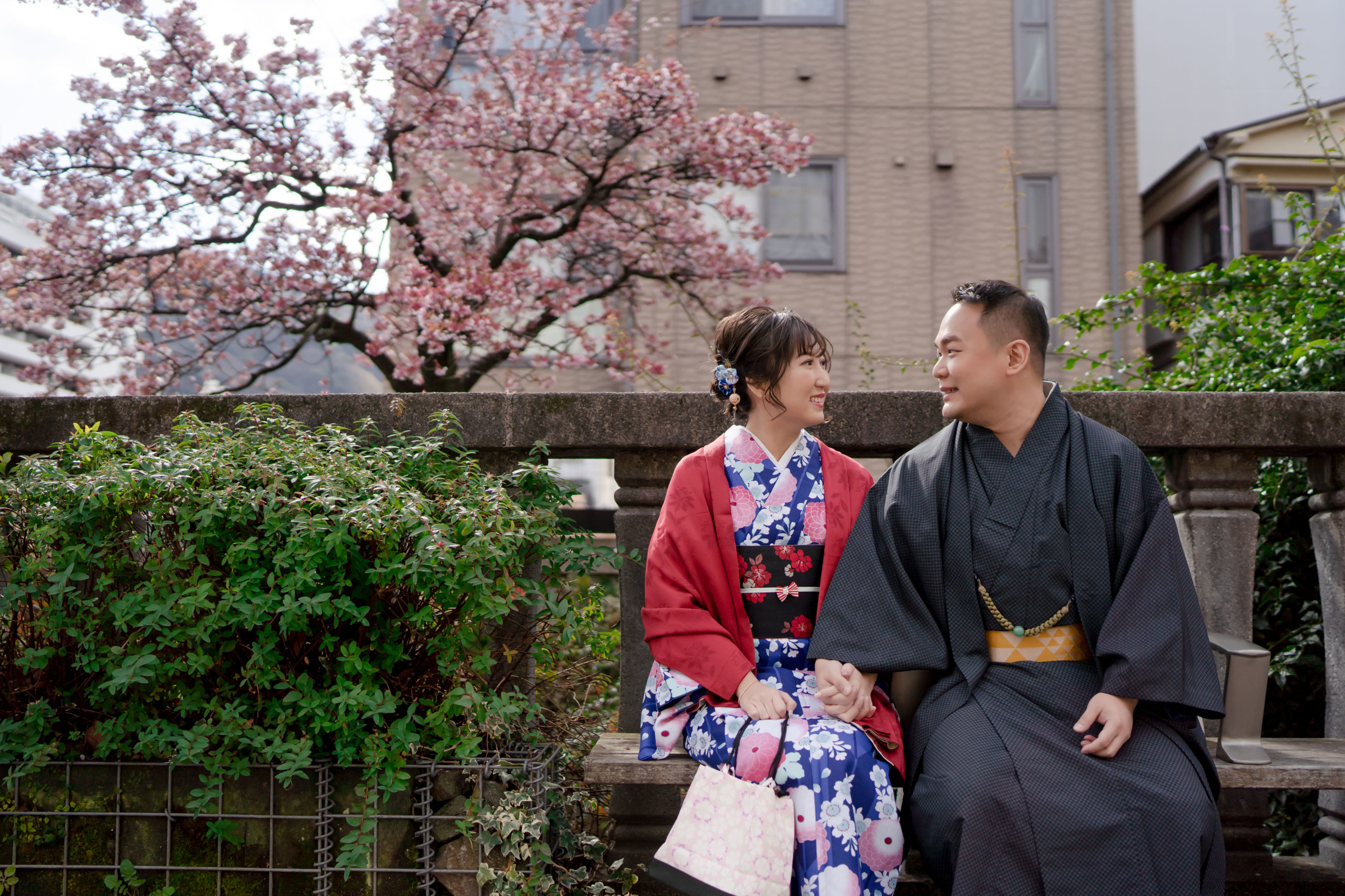 The good thing about casual kimono is that compared to traditional kimono, it is cooling, comfortable to wear, very easy to put on which takes about 30 min and generally less expensive to rent.
In the local's perspective, Yukata is more for onsen or a summer festival, but some foreign visitors, they may find it very 'Japanese' and interesting!
It can be a great choice if you want a Japanese style in your photo and want to stroll around the neighbourhood!
Komon (小紋)
Komon is a kind of kimono with dyed design all over.
Some are pattern dyed, some are hand-drawn.
Like previously mentioned, it is informal and daily use kimono.
It is like a fashionable dress, not good to attend a solemn ceremony, but good to go to a party, to meet friends or stroll around a town.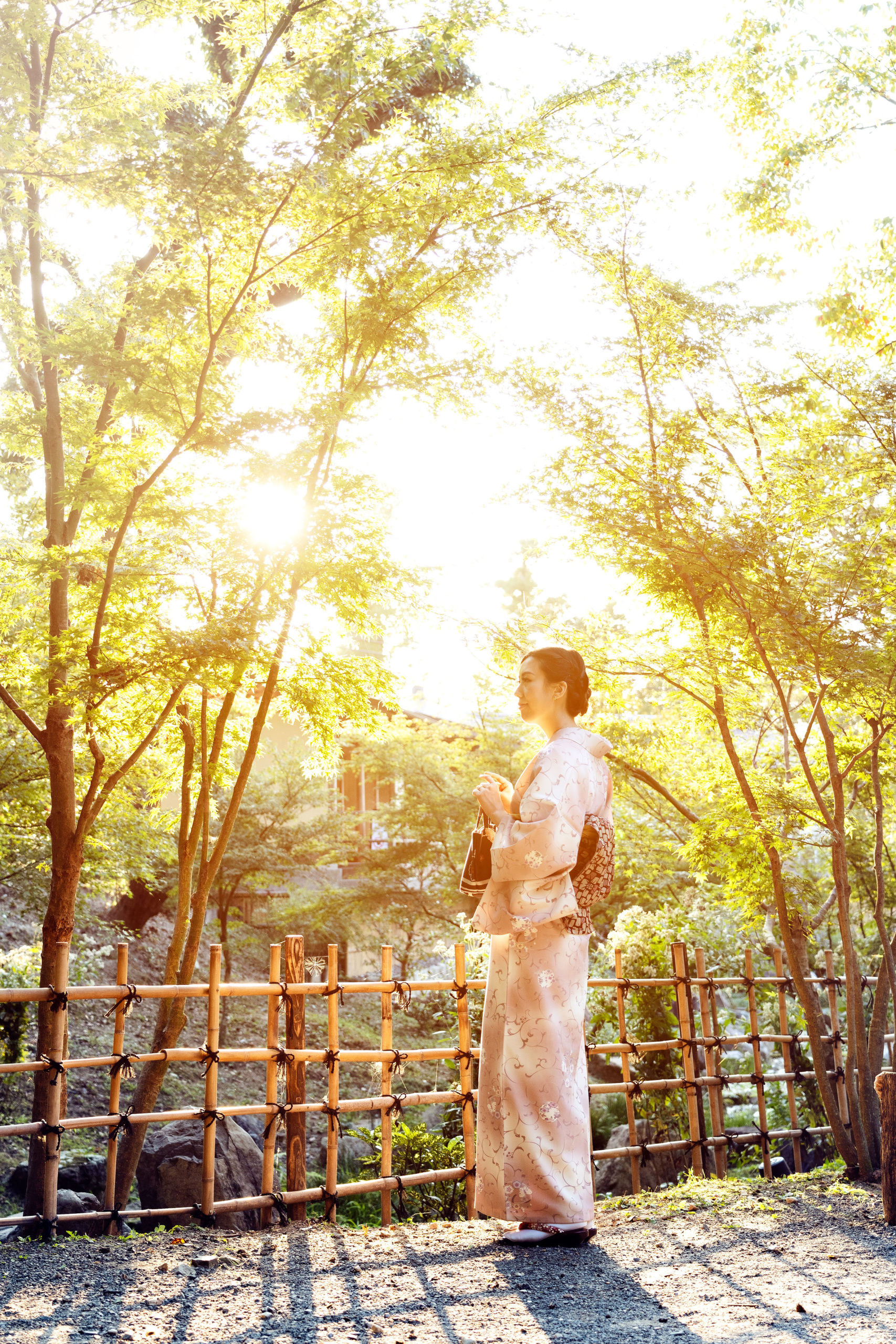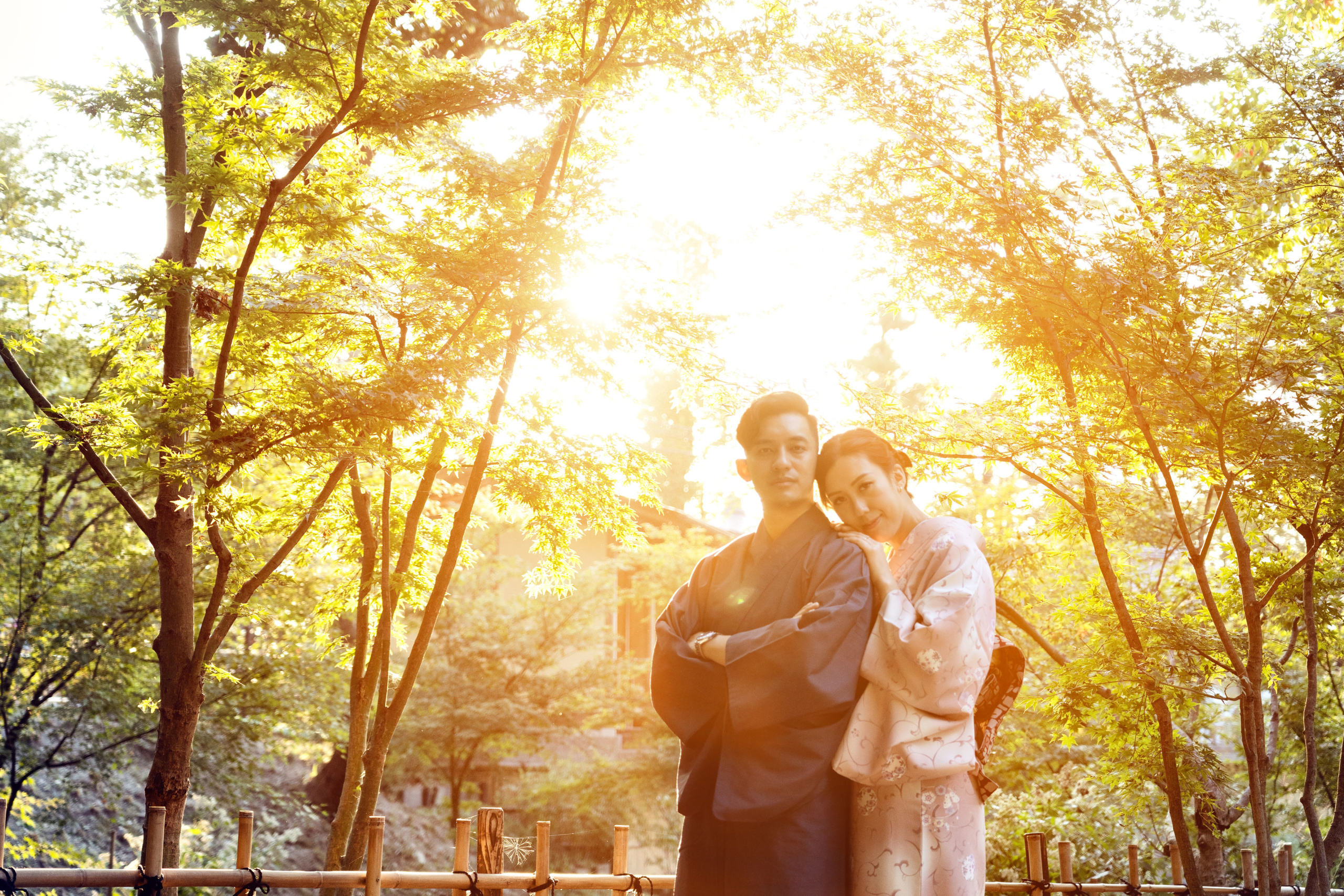 Furisode Kimono (振袖着物)
Furisode meaning 'swinging sleeves' is a special kimono worn only by a female that have yet to get married.
Compared to casual kimono, the quality of the fabric is higher with a long sleeve.
The designs are quite colourful with beautiful patterns.
It is not too grande compared to Irouchikake kimono (explained below) and will be suitable to stroll around.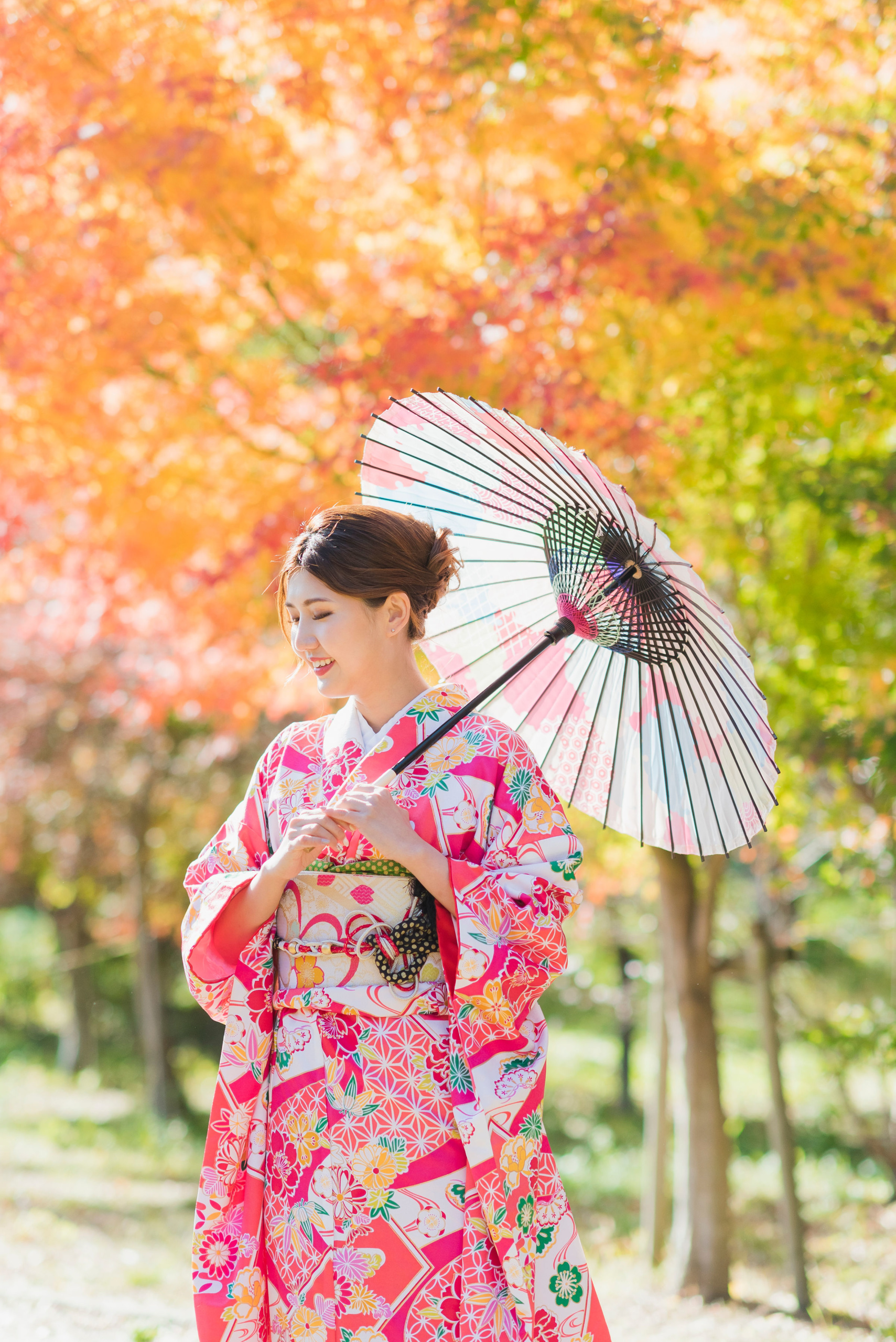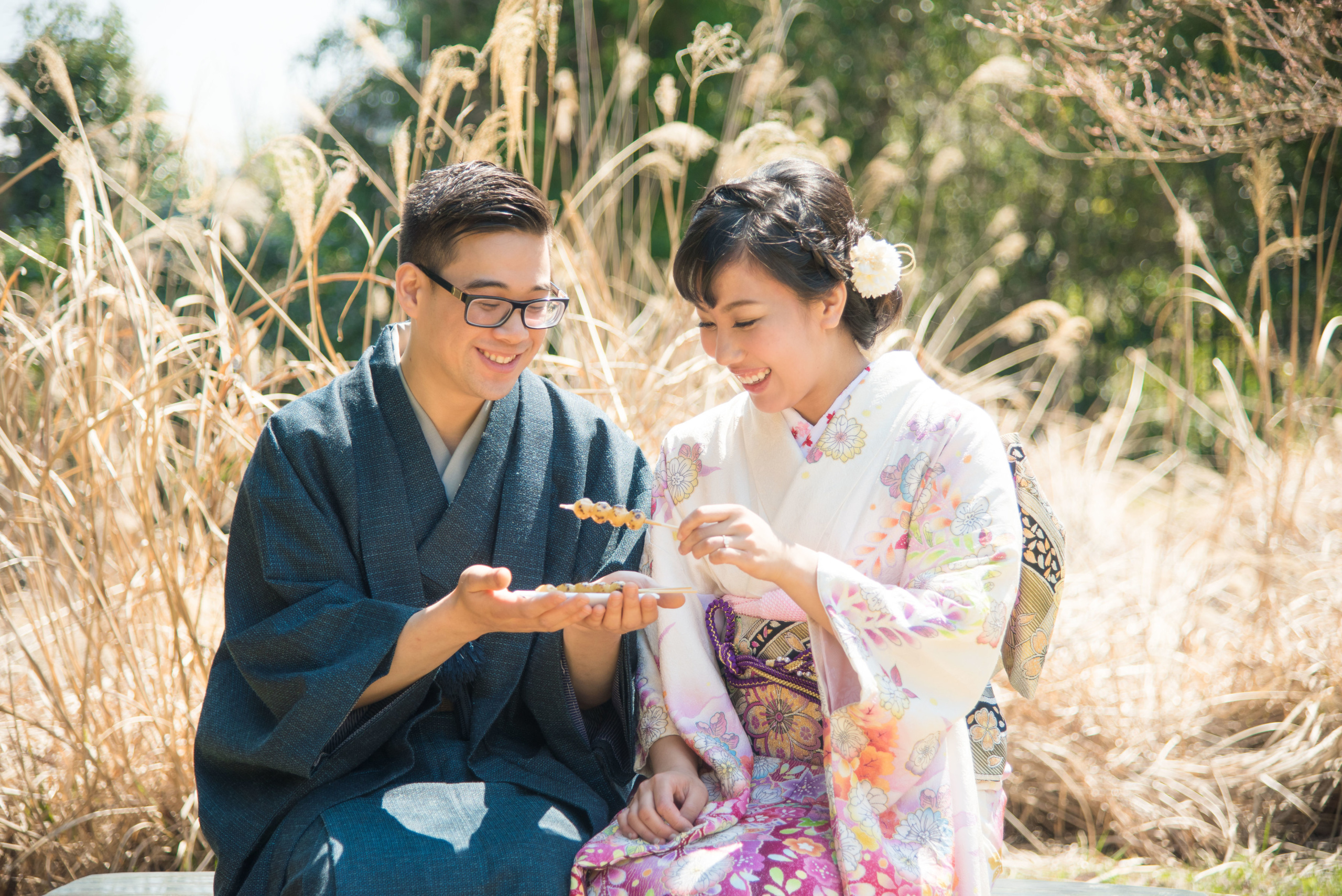 There are different sleeve length of Furisode. Depending on the length of the sleeves, it can be classified into 3 different types as Ohfurisode(long), Chufurisode(medium) and Shofurisode(short). It is said that the longer the sleeves are the more sophisticated it becomes. Because of this, brides attend wedding tend to wear Ohfurisode in once in a lifetime opportunity.
Some of the photographers provide a package with Furisode!
If not, you can get Ohfurisoded from most of the rental shop:)
Nevertheless, we are happy to arrange Furisode kimono with a local kimono shop as a top-up option for your pre-wedding photo package!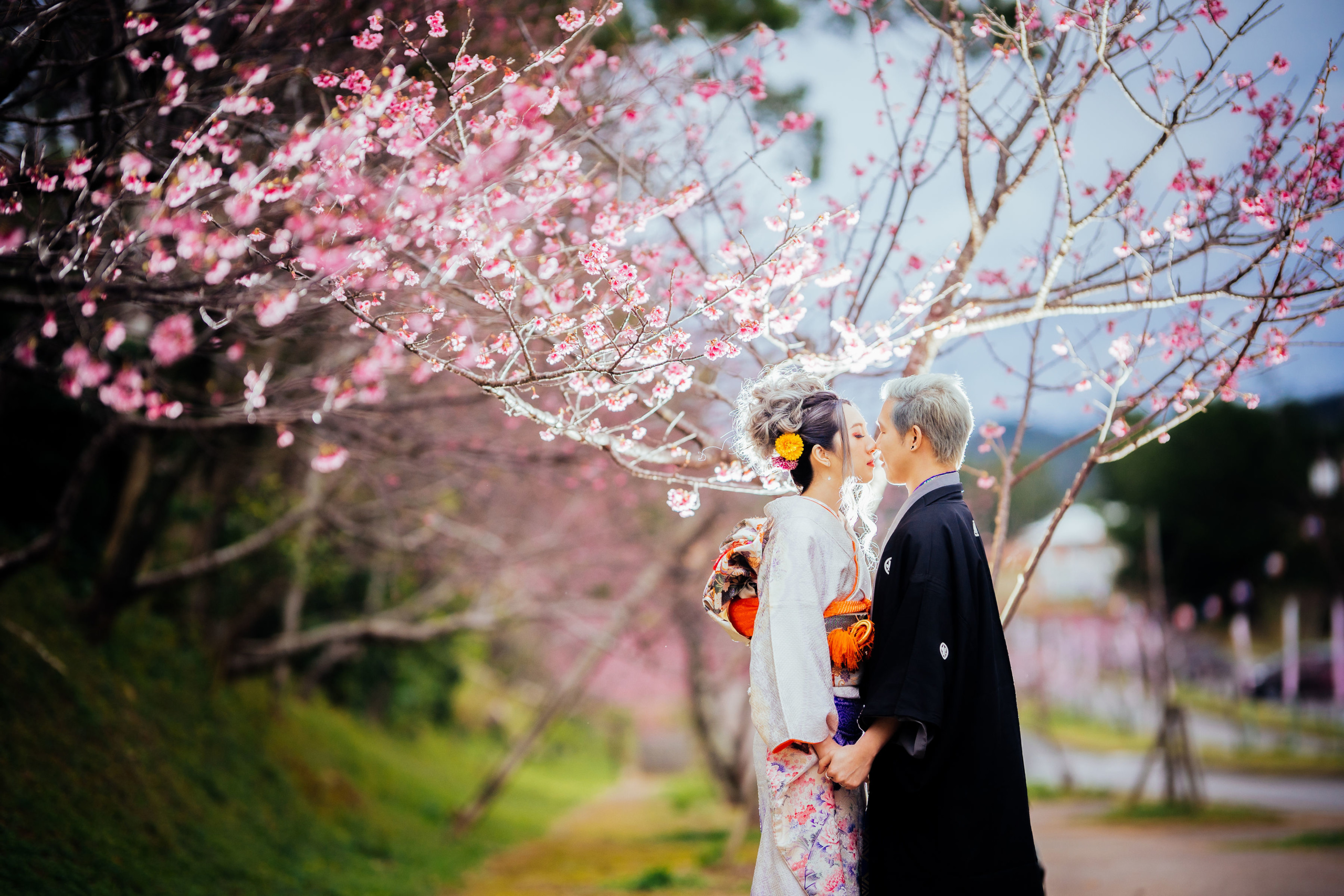 Furisode is also frequently worn by girls who just turned 20 in their 'Seijinshiki, the coming-of-age ceremonies!
The designs of Furisode are tended to be gorgeous and youthful.
The patterns are drawn after tailored tentatively so that it becomes as if one big picture from the overhead.
Traditional Kimono – Irouchikake (色打掛)/Shiromuku (白無垢)
Irouchikake is very special in a way that it is only worn by brides.
It is very colourful with red as a base colour.
Many Japanese brides wear it not only for the actual wedding ceremony but also for pre-wedding photo.
It always decorates with cranes, tortoiseshells, and other auspicious objects that symbolize longevity and prosperity.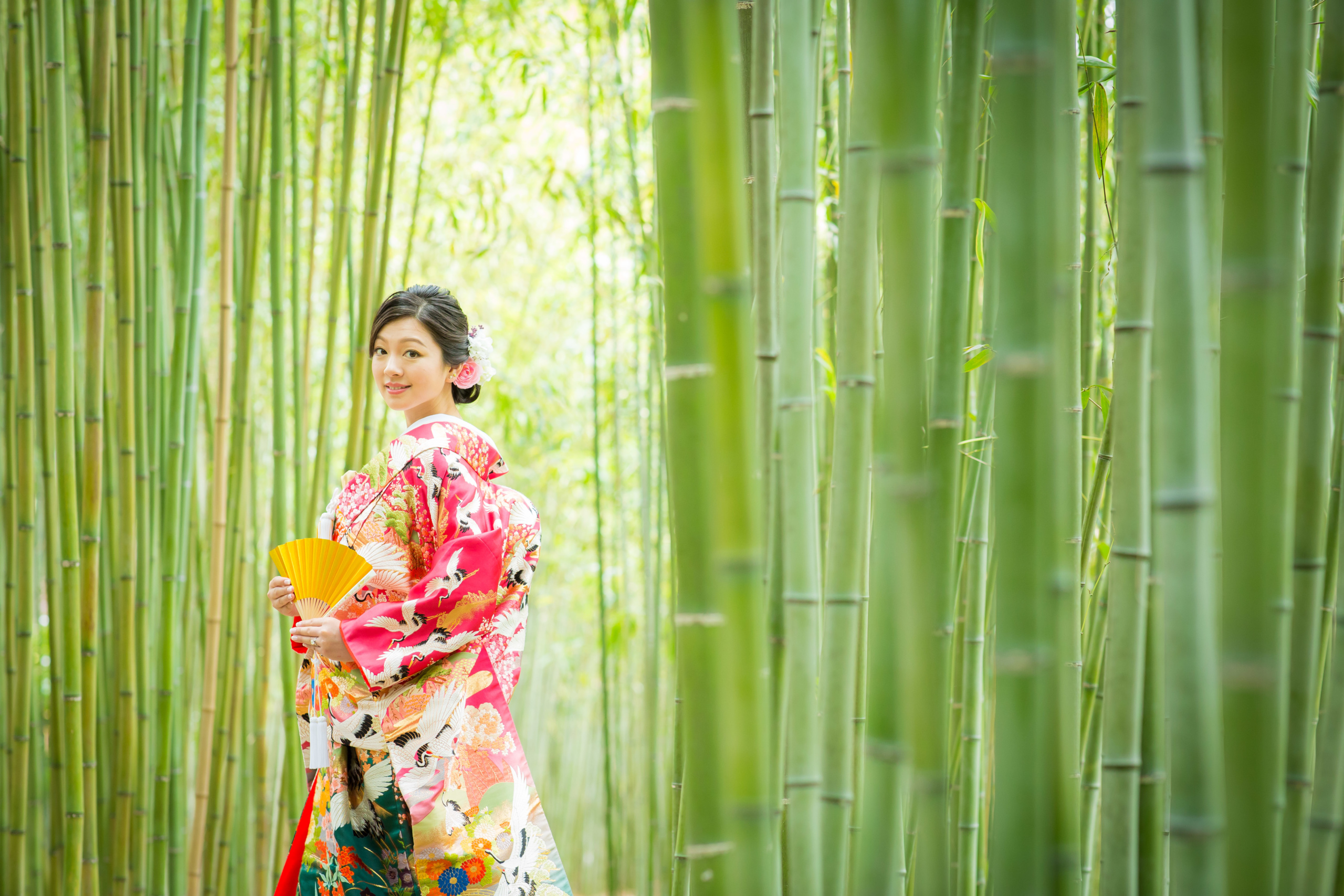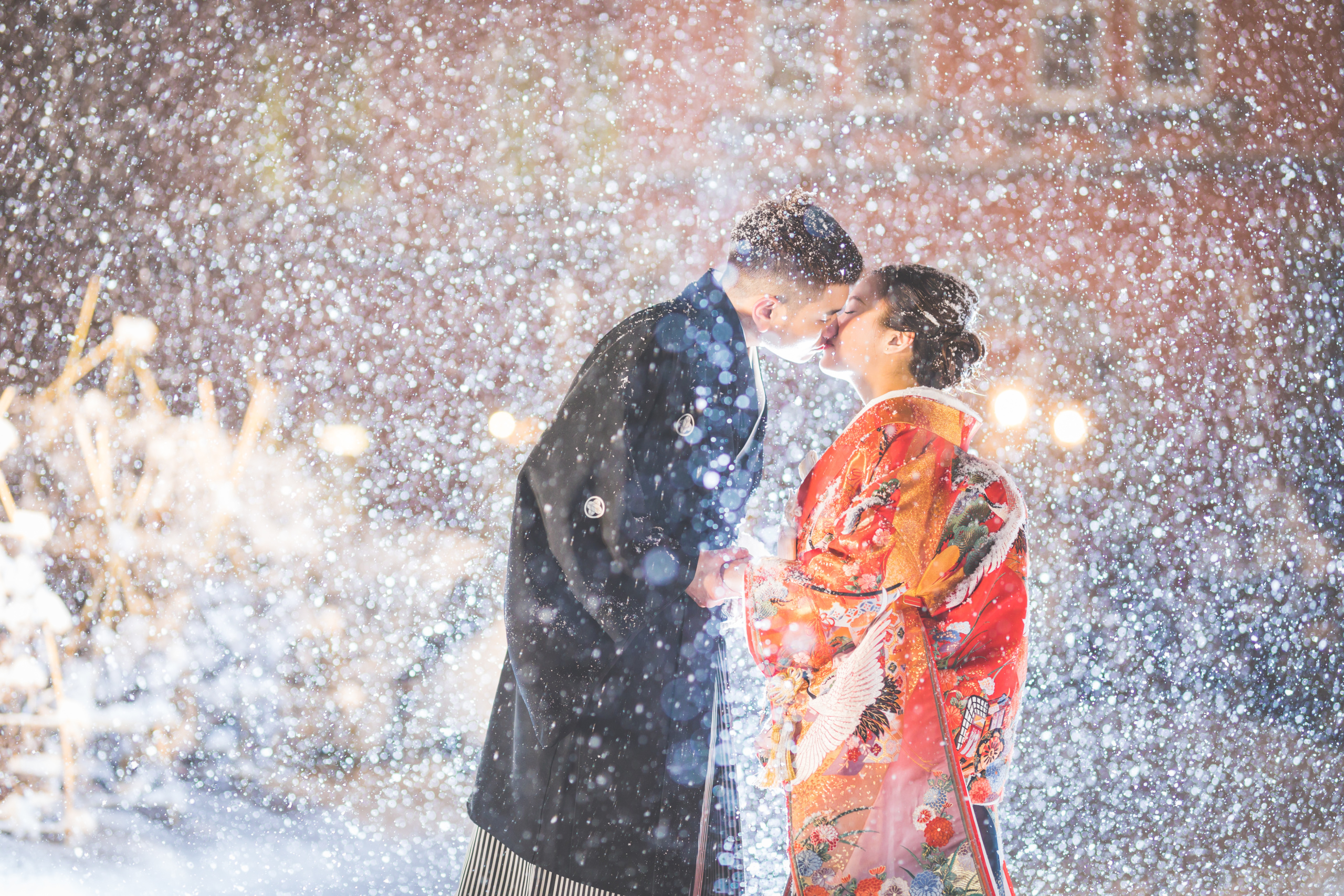 For such a gorgeous and complicated dress, it takes a very long time to put on.
Also, Irouchikake can be quite heavy, thus may not be suitable to wear if you are would like to have a photoshoot while strolling around the town. You will need an assistant to stroll around.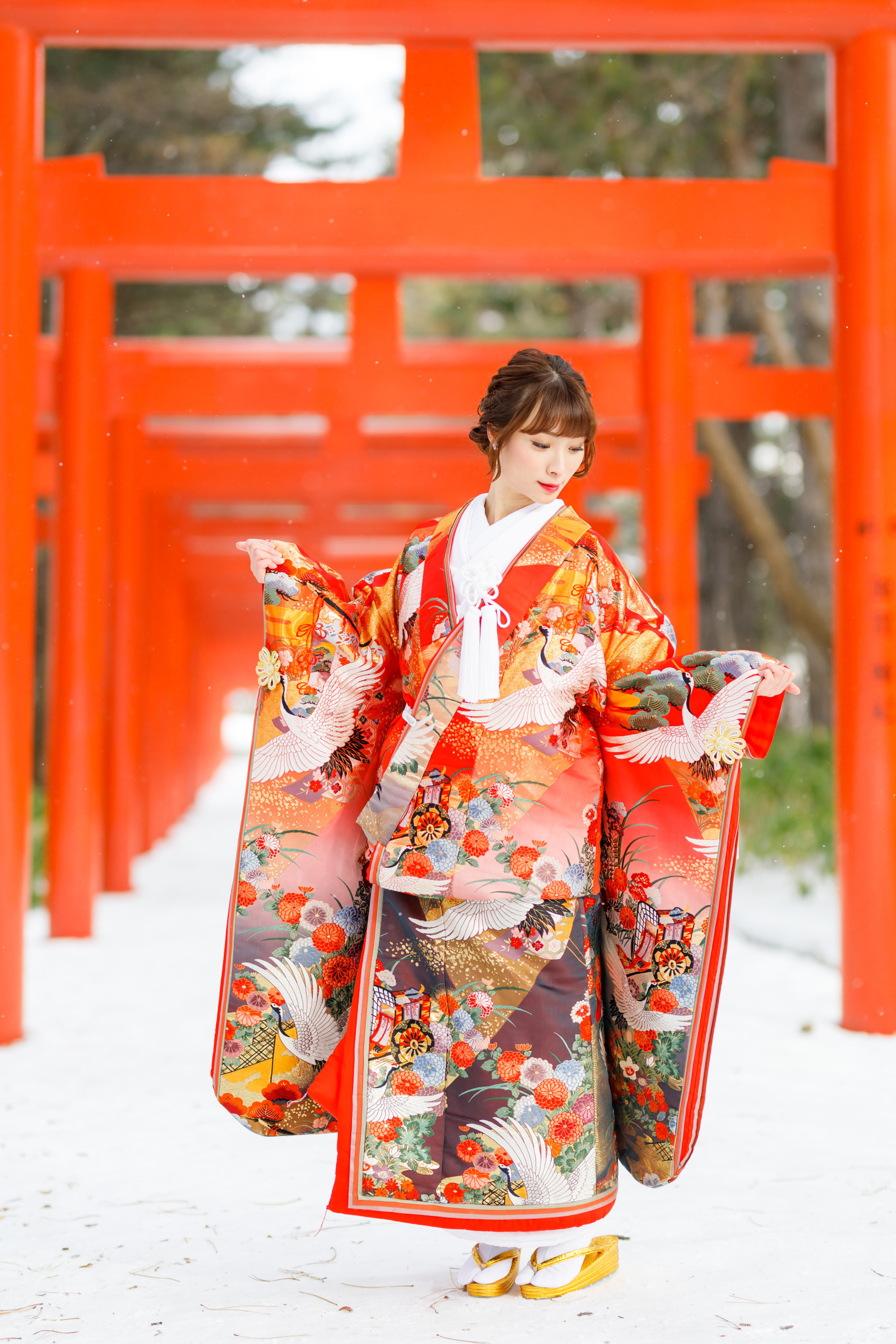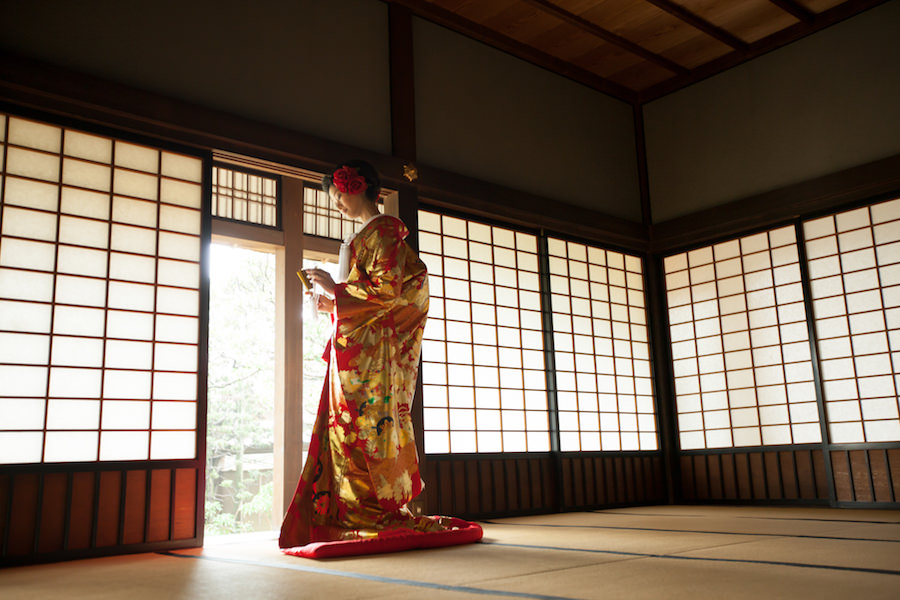 Shiromuku is a wedding kimono originally worn at weddings in samurai families.
It has become one type of wedding kimono worn by brides in Japan.
White has symbolized the sun's rays since ancient times, and from the Heian period, pure white bridal kimonos became prized.
The Shiromuku stands out due to all its parts — over-robe, under-robe, and many complicated accessories being pure white.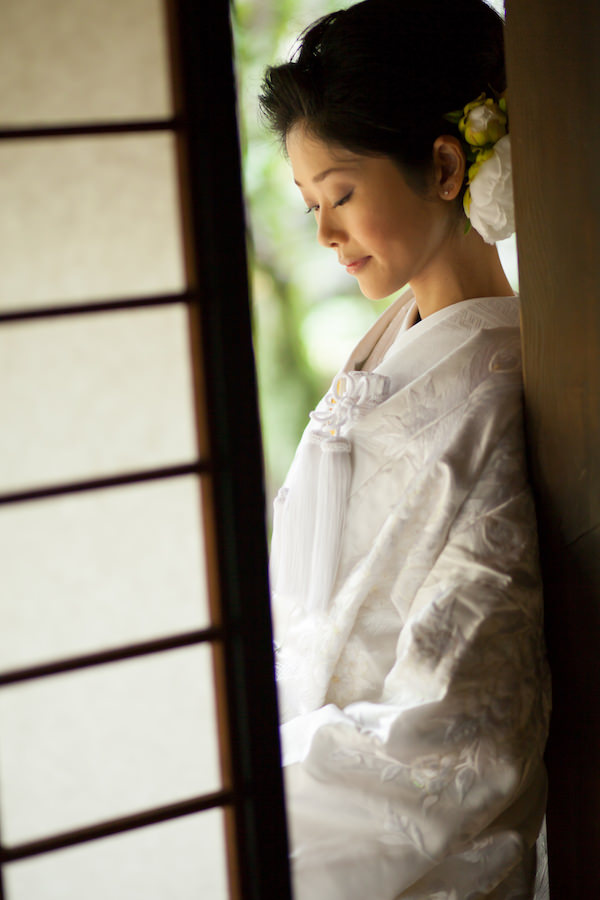 Brides at the wedding in shrines always wear white clothes.
This may be different from other culture such as Chinese culture (wear red during wedding).
This is because Japanese has regards "white" as a symbol of pureness, cleanness or virginity.
"White" has also been regarded as a sacred colour for many years, so Japanese people have believed Shiromuku to be suitable for the wedding ceremony held at sacred and religious places.
Same as Irouchikake, it takes a very long time to put on and not convenient to walk around the crowded place.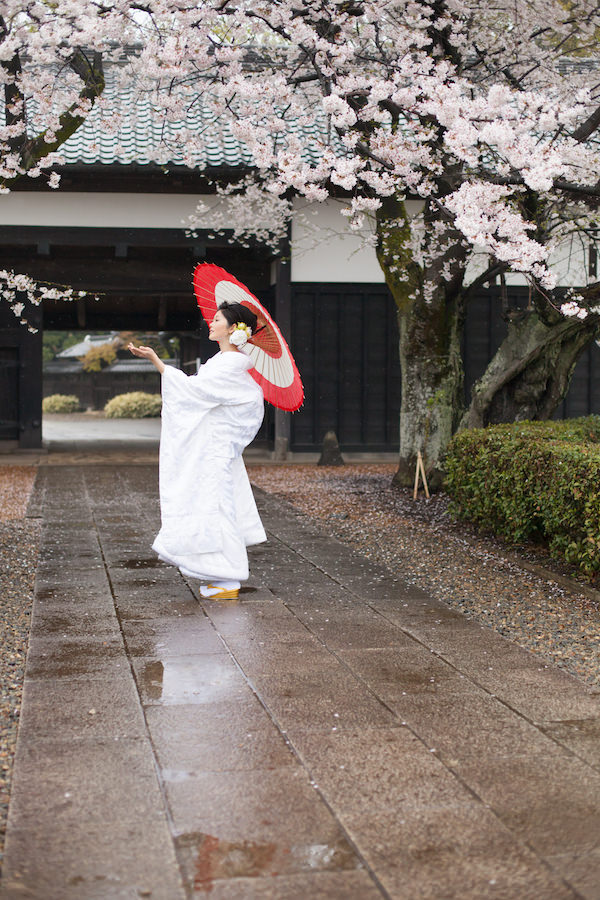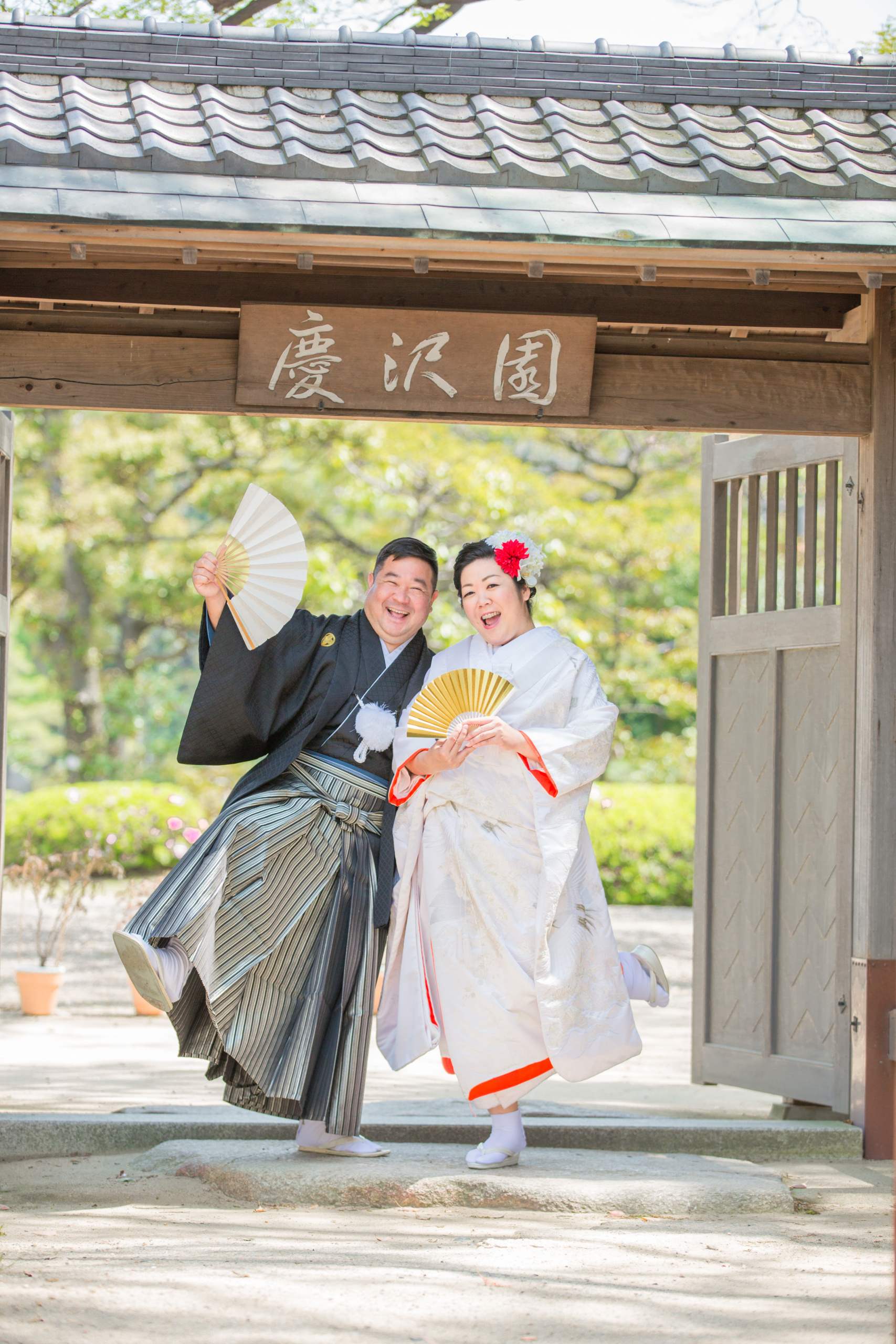 After reading, have you make up your mind on which Kimono to wear?
If you have, you are ready to book the pre-wedding shoot!
For more information on Kimono, feel free to talk to our concierge!