05 Sep

Perfect Autumn Scenery at Chuzenjiko Lake in Nikko

If you are in Nikko area during autumn, you have to visit Chuzenjiko Lake (中禅寺湖).

Chuzenjiko lake is located 1269m high and is one of the beautiful lakes in Japan. It is even more beautiful when decorated by red and yellow leaves during fall.
Leaves will start to color early October and last until end of October. It will depend on the year but usually it will peak in mid October.
The contrast of those colorful leaves with the blue water is just so beautiful and is definitely worth a visit. 
One of the cool ways to enjoy autumn foliage is from a boat. During autumn, the boat goes around the lake and you will have 360 degrees view surrounded by red and yellow leaves.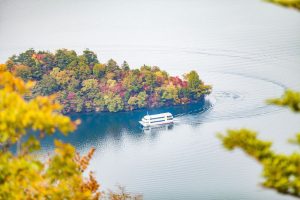 More spots to enjoy fall around Chuzenjiko Lake 
If you didn't get enough of autumn foliage at Chuzenjiko lake, don't worry! There are other places that you can visit nearby to enjoy more red and yellow scenery.  
Enjoy a spectacular view of the waterfall as it drops from 97m high. It's gets even better from mid October till late October when the leaves started to color.  
At Ryuzu falls, autumn foliage starts in early October through mid October.
Senjogahara is a wetland that is 400 hectare in size and is a great trekking course. Because it is located 1400m high, autumn foliage can be enjoyed mid October.  
You can trek on wooden path so it is a relaxing walk while enjoying the color of fall.  
Nikko area is generally colder than Tokyo. During autumn foliage, you need to dress warm with at least a jacket on. Especially in the morning and at night, the temperature drop quite a bit so if you are considering early or evening autumn foliage tour, be sure to stay warm!
Plan trip to Japan in mid October to capture a beautiful scenery of fall! It is just an amazing view offered only during this time of the year!
Interested in capturing memory of your trip this fall?