07 Sep

Must Go Beaches in Okinawa

You might think the best time to go to Okinawa is summer time but actually October is one of the best seasons to visit. Although there is fair amount of rain in Okinawa, in October rainy days diminish and you can enjoy sunny days!

There are many beautiful places in Okinawa including many beaches for you to relax and enjoy crystal clear blue ocean in front of you. Look through our recommendation and have a great time in Okinawa!
You can see Okinawa view for 360 degrees with nothing blocking your view. There are no net placed in the ocean, thus you can snorkel far to see many tropical fish.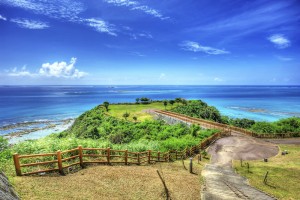 If you are at Chinen cape park, walk all the way down. The spectacular view of the blue ocean will let you appreciate that the earth is indeed round. Also if you are a morning person, it's a great spot for sunrise.
The symbolic white lighthouse stands tall at the end of the cape. Zampa cape is also know for the beautiful sunset so bring your camera along for an amazing view.
As the name gives away, Sunset beach is a perfect location to see the sunset. It is located by Mihama american village and you might forget that you are in Japan.
Toguchi beach is well know among the locals but not so much among tourists. Enjoy a walk along the hidden beach with your loved one.
Araha beach has it all and everyone can enjoy from small children to couples to people visiting with friends. There is a in-water obstacle course and is popular among kids. As the sun goes down, it will be a romantic time for the couples. How about a BBQ and beer to enjoy the sunset even more?
There is nothing artificial around Sesoko beach, only white sand beach and emerald green ocean. Drive over Sesoko Ohashi bridge 
Manzamou cape is one of the popular destination within Okinawa island. It is famous for the elephant's nose shaped rock. Best to visit before noon for a great photo! Manza beach is great beach to enjoy water sports. Bring your family along and have a great time at the beach.
Okinawa overall has crystal clear ocean with white sand beach and there is no doubt you have a relaxing time at the beach here in Okinawa. If you are thinking to come to Japan in October, include Okinawa in your trip!
Interested in having photo taken with this beautiful beach in the background?