06 Sep

Beautiful Red Fireballs at Hitachi Seaside Park this Autumn

Hitachinaka Seaside Park (ひたちなか海浜公園) is famous for its beautiful blue nemophila flowers in spring.

But don't forget the amazing view of red fireballs and cosmos flowers in autumn! It's definitely worth including in your itinerary if you are here in October.
Fireballs are green in color during summer time and as autumn approaches, they gradually start turning red and eventually in mid October, they create the beautiful red scenery at Hitachi Seaside park.
Contrast of the blue sky and bright red fireballs offer spectacular view and luxury that you can only experience this time of the year.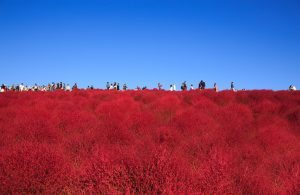 Cosmos flowers and red fireballs
Autumn is special in a sense that you can also enjoy the collaboration of red fireballs and cosmos flowers blooming. Stand at the base of Miharashi oka. From there, the contrast of white and pink colored cosmos with bright red fireballs are just so beautiful and offers a photogenic scenery.
Visit Hitachi Seaside Park this summer for a beautiful red scenery spreading in front of you!
How about capturing your memory at Hitachi Seaside Park?