11 Sep

Amazing View of Silver Grass Field in Nara

Only an hour away from Kyoto and Tokyo, Nara is an area where you can feel the history.

As November approaches, leaves start to turn color and offer beautiful scene of fall. It is not only the autumn foliage that Nara has to offer.

In mid September, little before autumn foliage, you can enjoy a magical view of silver grass field in Soni Kogen (曽爾高原).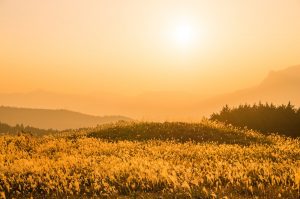 As the sun goes down and shines over the silver grass field, it offers this beautiful golden scenery.
The contrast of the light and darkness makes the silver grass field so photogenic. Make sure to bring your camera along to capture this view.
Starting on September 17th until November 23rd, lanterns along the trail will be lit up after sunset until 9pm.
Enjoy the tranquil and mystical walk in Soni Kogen this fall. Be sure to dress warm as it does get cold after sun goes down.
Access:45 minutes bus ride from Nabari station (名張駅) West exit
*Bus only operates from October 1 to November 30 
Interested in capturing your trip to Nara?