29 Aug

How about an up-side down Mt. Fuji?

Mt. Fuji is certainly one of the symbols that represents Japan. The shape of the mountain is just so perfect and the snow covering the upper part of the mountain makes it even more beautiful.

At Kawaguchiko lake (河口湖) in Yamanashi prefecture, you can enjoy this beautiful mountain not only by itself but up-side-down reflecting on the lake.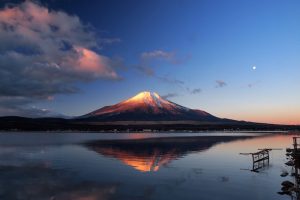 Kawaguchiko lake is one of the Fuji five lakes (Fujigoko, 富士五湖) and is a popular tourist spot for both Japanese and foreign travelers.
One of the best spot to capture a beautiful up-side-down Mt. Fuji is Ubugayasaki (産屋ヶ崎).
It's not only the up-side-down Mt. Fuji that Kawaguchiko lake offers and there are many more beautiful sceneries for you to enjoy.
How about a nice relaxing walk around the lake?
It is such a romantic view as the sun goes down with the light reflecting on the lake.
In April, cherry blossoms will be blooming and it will be a great time to bring your camera for a beautiful photo.
In June and July, lavender will be blooming adding colorful purple contrast the scenery of Mt. Fuji. 
In November, autumn foliage can be viewed everywhere. Walk on a natural red and yellow leaf carpet, enjoying the sound of the crispy leaves.
Come and enjoy the beautiful Mt. Fuji and Kawaguchiko lake!
How about a photoshoot with Mt. Fuji in the background?