05 Aug

Must-see Event in Kyoto this Summer

There are many things to see and do in Kyoto and your itinerary might already be full. If you are still looking for things to do this summer, let me introduce traditional events in Kyoto happening this summer.

Gozan no Okuribi (五山の送り火)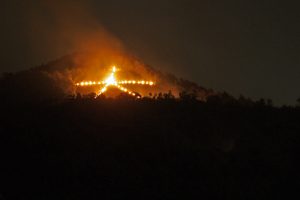 Every year on August 16, letters are made by fire on mountains.
It is a seasonal tradition for people in Kyoto, along with Gion festival which is held in mid July.
This event is thought to help see off the souls of ancestors after commemorating the welcoming of their souls during Obon period.
There are total of 6 character and symbols being burnt, including the most famous "Dai – 大" character on Nyoigatake peak.
Starting at 8pm, the fire will be lit every 5 minutes.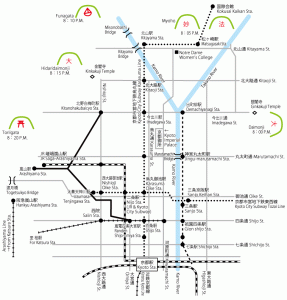 For you to see almost all the characters and symbols, visit the Aeon shopping mall at Gojyo.
Go up to the top parking lot and enjoy each character and symbol being lit up.
If you want to see one but close, Kyoto Gyoen (京都御苑) will be a place to be.
From Kyoto Gyoen, you can see the famous "大" character. 
There will be many people coming to Kyoto Gyoen on the day, but because Kyoto Gyoen is so big, it won't feel too crowded. 
Another recommended spot is from Kamogawa river (鴨川).
You can view "大" and "法" characters from the Imadegawa Kamo Ohashi bridge (今出川賀茂大橋).
From Hirosawa-ike pond (広沢池), you can see the torii gate and also sending off the lantern.
Lantern will be sent off from the boat at 7pm. 
It is such a mystical scenery of colorful lantern slowly floating in the dark along with torii gate symbol being fire lit. 
It is a seasonal tradition and only can be seen if you are in Kyoto on August 16. 
If you are in Kyoto that day, I encourage you to experience old culture of Kyoto.