22 Aug

Catch the Earliest Autumn Foliage in Hokkaido

Because Hokkaido is located in northern part of Japan, you can enjoy the earliest autumn foliage in Japan. The view of red and yellow leaves in the mountains are so beautiful that it will blow you away.

Weather in Hokkaido in September can vary depending on which are you are in, but overall it is a nice climate.
The average highest temperature is 22.4℃ and the average lowest temperature is 14.2℃.
From mid September, you will need to dress warmer, at least a jacket to put on.
Because the temperature will vary during the day and night, it is always good to have layers of clothes so you can put on and off easily.
Spots to enjoy Autumn Foliage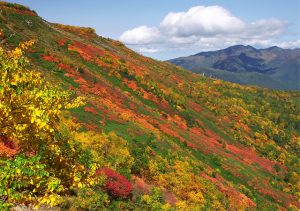 Even within Hokkaido, you can enjoy the earliest autumn foliage at Daisetsuzan, starting from early September.
Take a ropeway from Sounkyo (層雲峡) and you can see the great view of red and yellow trees from 1990m high. 
Over the course of one month, the autumn foliage will move down to Sounkyo. 
Season: Early September – Late September
Onneto lake is located within Akanko National Park.
There is something mystical about Onneto lake. Depending on weather, season, and the angle you view, Onneto present different blues such as emerald green or dark blue.
The contrast of the blue water and the red and yellow leaves are just beautiful.
Season: Late September – Early October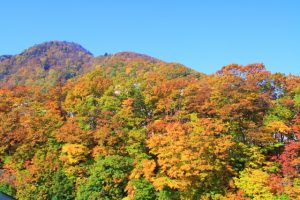 If you want to relax in hot spring and also capture the autumn foliage, Jyozankei is recommended.
Four kilometers from Jyozankei, Hoheikyo also offers breath taking view of fall.  
Season: Late September – Mid October
Jikokudani in Noboribetsu (登別の地獄谷)
Jikokudani has a basin like landscape so 360 degrees of autumn view will be right in front of you!
Season: Early October – Late October
Onuma national park is a place to immerse yourself in the grand nature of Hokkaido. Colorful autumn foliage is decorated by Komagatake in the background. The view from the trail is a magnificent so don't miss out!  
Season: Mid October – Early November
Nakajima park is like an oasis in the middle of the city of Sapporo. Walk on the yellow ginkyo leave carpet to get the feel of fall.
Season: Mid October – Early November
Hokkaido University (北海道大学)
Hokkaido University is famous for its ginkyo trees. It is 5 minutes walk from Kita Jyuni-jyo station (北12条駅)  and a great photoshoot location inside the tunnel of ginkyo trees. 
Season: Late October – Early November
Interested in having photo taken with autumn foliage in the background?