29 Apr

Tulip and Mt. Fuji collaborating now in Japan

Year round, there's always some kind of flowers blooming in Japan for tourists to enjoy. It is now the tulip season in several parts of the Japan and here are some recommendation.

Today, I want to introduce Heavenly Tulip Festival (天空の花畑) in Shizuoka.

If you are in Japan in early May, this is an event that I want you to consider going.

Why miss out on when you can see the collaboration of iconic Mt. Fuji and colorful tulip gardens covering the ground!


Throughout the festival, over 70,000 tulips will be blooming in 2nd station of Mt. Fuji. 
It will be red, purple, yellow, and pink everywhere you look and you are sure to get a beautiful photo posing in front of those tulips.
Even better is that Mt.s Fuji is right behind so you can include world heritage mountain in your photo.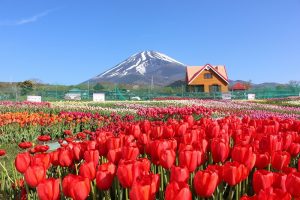 Photo from http://www.tenku-hanabatake.com/tulip/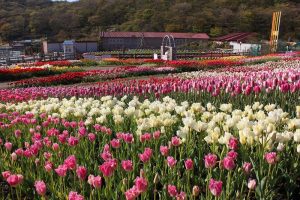 Photo from http://www.tenku-hanabatake.com/tulip/
The view is so spectacular it all most feels unreal. Hope you get a chance to see if you are in Japan in early May.
Date: April 16 – May 29, 2016
Location: Gurinpa theme park
Address: 2427 Susono, Suyama,Shizuoka
Open: 9:30 – 17:00 (Open at 9am weekend)
Admission: 1200 yen for adult, 800 yen for children
Parking: 1000 yen for 1 day
Interested in beautiful photos of your vacation with tulip and Mt. Fuji?