24 Apr

Hidden spots to enjoy spectacular night view of Yokohama

Night view of Yokohama is so spectacular that it is worth including in your itinerary if you are nearby. There are many spots you can enjoy this beautiful night view from. There will be many locations where you'll feel the need to take your camera out and take photos.
Walk or sit and enjoy the view at Cup Noodle Museum Park
Because this park is right behind Cup noodle musum, it is really a hidden spot with not many people around. A chance to enjoy an exclusive night view just you annd your speical someone!
The view will be mainly facing Intercontinental hotel and port side area.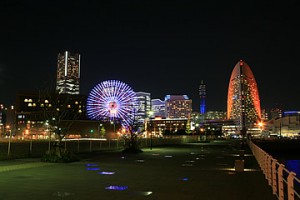 Mystical red brick warehouse
After sunset, the famous red brick warehouse lights up. Walk around or sit and have some drink and enjoy the view as there will be many nice restaurants around for a romantic date night.
Look up Bay Bridge from Daikokufuto
It is one of the spots where you can see Bay Bridge closely. It is right off Daikokufuto (大黒ふ頭) exit of the express way. Unfortunately the road to get to the ocean is closed after 5pm. Therefore, considering the time of the sunset,it is recommended to visit Daikokufuto after fall.
These are only few spots and there are many places to be memorialized by the beautiful view of Yokohama after sunset. If you are nearby, take a walk and absorb yourself into the wonderful city of Yokohama.
Interested in having a photoshoot with beautiful night view of Yokohama in the background?