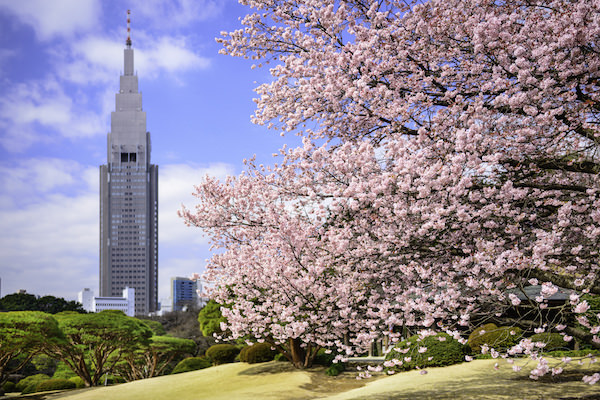 18 Mar

Late Blooming Cherry Blossoms in Tokyo

Coming to Tokyo in mid or late April but worried that you might have missed  the cherry blossom season?

Don't worry!

Different kinds of cherry blossoms bloom at different time so you'll be able to enjoy cherry blossoms. Bring a camera and you'll have a beautiful picture with cherry blossoms in the background.

Here are some recommended spots for those coming to Tokyo in mid or late April.
Shinjuku Gyoen
Believe it or not, some people say best time to view cherry blossoms in Shinjuku Gyoen is mid April and onwards.
They have over 1300 cherry trees with 65 different kind so there will be plenty of cherry blossoms blooming even towards the end of cherry blossom season.
You might actually get a better contrast with some fresh green trees, blue sky, and pink sakura.
Detail:
Open 9:00-16:00 (Gates close at 16:30)
Closed on Mondays but March 25 – April 24, open every day.
Admission: 15 years old and over is 500yen & 14 and under is 50yen
Jindai Botanical Park
Ride train and bus from Shinjuku and within an hour, you'll reach Jindai Botanical Park, located in Chofu-shi.
It being the only botanical park in city of Tokyo, over 4800 kinds of plants can be seen at this botanical park.
As for the cherry blossoms, more than 60 kinds with total of 600 trees planted around the park.
You can count on seeing cherry blossoms anytime starting from mid March until mid May.
Detail:
Open 9:30am-5pm (entry by 4pm)
Closed on Mondays but March 25 – April 24, open every day.
Admission: 15 years old and above is 500yen, middle schoolers is 200yen, and primary school and below is free
Meiji Jingu Gaien 
Along the walkway at Meiji Jingu Gaien, there are 500 cherry blossom trees making a pink tunnel.
Walk through and you will feel the spring as the pink petals dances as the wind blows. Don't forget to stop by at night as well. The cherry blossoms will be lit up and it'll be a perfect date night with your loved one.
Detail:
5 min walk from Shinanomachi station (JR line)
Koganei Park
Last location is Koganei Park. It is a 15 minutes bus ride from Musahi Koganei station (JR Chuo line) and is chosen as the top 100 sakura spots in Japan.
From mid March till end of April, 70 kinds of cherry blossoms will be blooming at its own timing. As it is a popular park for locals as well, it could draw lots of people during Spring. However, because the size of the park, you will never feel too crowded.
After reading this, I hope you feel better coming to Japan in late April. There will be plenty of ohanami (cherry blossom viewing) for you to enjoy during your trip!