27 Mar

Late Blooming Cherry Blossoms in Kyoto

Planned your trip to Japan in mid April to take a beautiful spring photograph? Worried that you might have missed the cherry blossom season?

No worries! There's going to be plenty for you to enjoy sakura.

Different kinds of cherry blossoms bloom at different times so some will be blooming in late March and some in mid April. So here's the list of locations you can include in your itinerary if you are visiting Kyoto in mid April.
Heian Shrine
In mid April, 150 red weeping cherry trees will be blooming beautifully in Heian Shrine. The amount of flowers blooming is overwhelming and it almost feels like pink sakura flowers are pouring from the sky!
Tel: 075-761-0221
Time: 8:30-17:30
Free Admission around shrine/ 600yen to go inside
http://www.heianjingu.or.jp/
Kamigamo Shrine
Established before Heian era, Kamigamo shrine is one the oldest shrine in Kyoto. At Kamigamo shrine, red weeping cherry trees scatter around but one that stands out is Saio cherry blossom. It's unique color of sakura offers gorgeous scenery in mid April.
Tel: 075-781-0011
Time: 5:30~17:00
Free Admission
http://www.kamigamojinja.jp/
Uhoin Temple
One of the hidden spots for late blooming cherry blossoms is Uhoin. It's not a big temple but that's why it offers spectacular view of cherry blossoms. If you are in Kyoto in mid April, it is highly recommended to take your camera for a beautiful cherry blossom photo!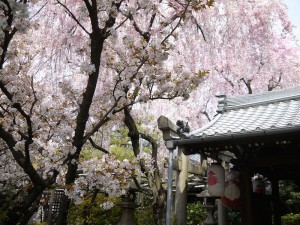 Photo by http://kyoto-sakura.net/uhoin.html
Tel: 075-441-8678
Open all the time
Free Admission
Ninnaji Temple
At Jinwaji temple, a kind of sakura called omurosakura blooms mid April. Its uniqueness is the height of the tree, it being short. Because of its hight, it blooms like a cloud that seethe from the ground. Enjoy the five story pagoda that appears through the full blooming cherry blossoms. It's a scenery you want to capture with your camera if you are in Kyoto in mid April!
Sanzenin
Located in Ohara, northern part of Kyoto, cherry blossoms in Sanzenin blooms little bit after the peak season as temperature tends to be lower compared to other parts of Kyoto. 500 cherry blossoms will welcome you with a beautiful scenery in mid April.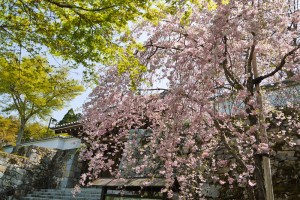 Photo by http://kyoto-sakura.net/
Tel:075-744-2531
Time: 9:00~17:00
Admission Fee: 700 yen
http://www.sanzenin.or.jp/
It's not too late to come to Kyoto during mid to late April. You can still enjoy the spring feel with cherry blossoms blooming beautifully in some places.
Why not pose in front of a pink blooming cherry blossoms for your vacation memory?