13 Mar

Enjoy Cherry Blossom at Kiyomizu Temple While Avoiding Crowds

Kyoto is by far one of the most visited city during cherry blossom season. It is a great combination with cherry blossom and historical temples, which attracts many tourists every year.

Out of many popular locations for cherry blossoms, Kiyoizu temple is a must-go-spot if you are visiting Kyoto this time of the year.

Opening our during cherry blossom season (March 26th – April 10th)

Day: 6:00AM – 17:30PM

Night: 18:00PM – 21:00PM

*Everyone needs to exit once between the day and night session.

It should be included in your itinerary if you are going in to be in Kyoto.

The only issue is that it will be very crowded!
So here is a tip to enjoy beautiful cherry blossoms in Kiyomizu temple while avoiding the crowds as much as possible.
I'm sure you rather see the cherry blossom than the back of people's head!
Avoid the peak time
It will be difficult to avoid crowds on a weekend, as there will be many locals that will come out to enjoy the glimpse of spring. So if you are traveling and have free time during the weekday, you'll have a better chance of avoiding people.
Best time of the day will be early morning, during dinner time (7:30PM – 8PM), and towards the end of the night light up session.
1. Early morning
Not everyone is a morning person, but if you don't mind waking up early, you might be rewarded with a quiet morning to enjoy the cherry blossoms. The gate opens at 6am so go on time, take a nice refreshing walk, and go back for a short nap and breakfast to start your day!
2. Dinner time (7:30pm – 8pm) or little before 9pm
The light up of cherry blossoms in Kiyomizu temple offers spectacular view so don't miss out!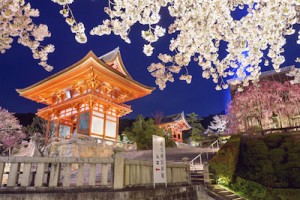 Around 7:30-8pm, many people will be going out for dinner, so here's another chance for a less crowded visit.
If your hotel is nearby, it may be better to wait until little before the ticket counter closes, which is at 9pm. There won't be many new people coming in, and many that are already inside will be leaving shortly.
Lastly, it is highly recommended to take the public transportation during the cherry blossom season. The traffic can be bad and often times it is much faster to walk. If you want to go there by car, make sure to park a little far away from Kiyomizu temple.
It really is a fantastic view of cherry blossoms in Kiyomizu temple, so hopefully you'll get a chance to visit this spring.