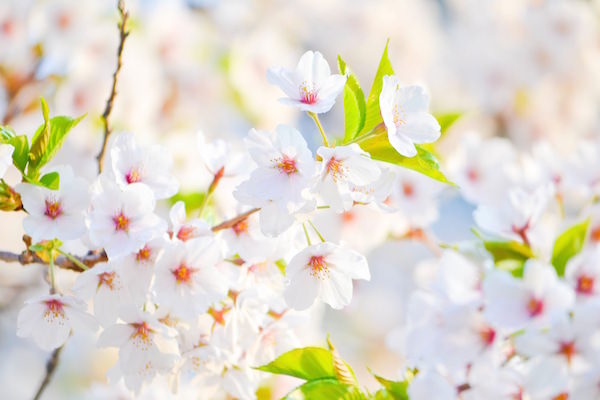 06 Mar

Best Places to HANAMI during cherry blossom season in Tokyo

As spring approaches, Japanese people look forward for the day when cherry blossom starts blooming. In Kanto area, you can see cherry blossoms become pink in late March. Once flowers bloom, people gather for hanami, a Japanese custom of flower viewing. You can walk about or have a picnic under the cherry blossoms. It is a great way to spend fun quality time with family and friends. It is a special time of the year as streets and parks are covered in pink, and is one of the best times to visit Japan.

There are many places to hanami, but some are better than others. Here are top 5 locations  for you to enjoy hanami in Kanto area;

No 1. Megurogawa/Tokyo

800 cherry blossom trees blooming over 4km riverside, Meguro river area presents astonishing view during spring. Because of the difference in width at upper and lower stream, you can enjoy various scenery as you walk up down the riverside.

Recommended route is from Meguro area to Nakameguro area, which is approximately 2.6km. It's a nice 30min breezy walk under the cherry blossoms. It is better to start your walk from Meguro area, as Nakameguro side offers more grande view. Take a break at nakameguro park, located in between your walking route. Have some warm tea and enjoy the cherry blossoms from Sakura terrace inside the park.
If you have energy to continue (and I hope you do!), keep walking toward Ikejiri-Ohashi. As the river gets narrow, you'll be rewarded with a spectacular view of cherry blossoms arching over the water. Stick around till after sunset and you'll  the glowing pink cherry blossoms that are being lit up. Enjoy the mochi and drinks offered by the locals.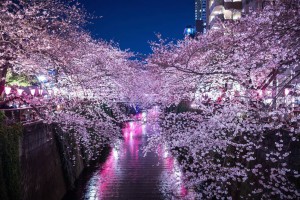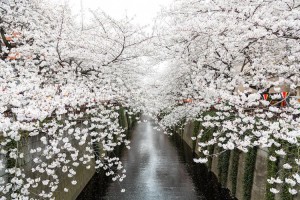 Access: 2 minute walk from Nakameguro station (Tokyu Toyoko line, Hibiya line), 5 min walk from JR Meguro station
Light up time: 18:00-21:00
No 2. Chidorigafuchi Park
If you don't mind the crowd, Chidorigafuchi park is also one of the best location for hanami.
To avoid as much crowd as possible, aright at Hanzomon station, and you are only 5 minutes away. Walk around the Imperial Palace and soon you'll reach your destination. With approximately 260 cherry blossoms along the moat, you'll feel like you are walking through magical sakura tunnel.
Another cool way to appreciate the view is from a boat. It is incredible to look up at the cherry blossoms from the water. Though the lines for the boat ride might be long, it is well worth a ride on a warm spring day. Snuggle on the boat with your loved one for a light up boat ride at night.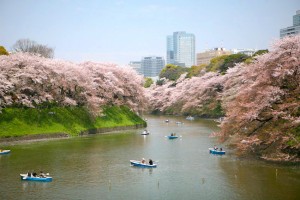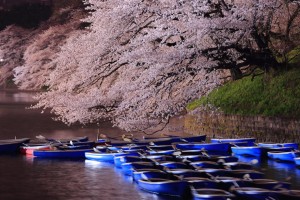 Access: 5 minutes from Kudanshita station or Hanzomon Station (Tokyo metro)
Boat ride hours: 9:30-20:00 (Last ticket sold at 19:30)
Price: 800 yen/30minutes during cherry blossom season
Contact: 03-3234-1948
No. 3 Rokugien
If you wan to see the grande Shidare-sakura (weeping cherry tree), Rokugien is the place to go. As you enter the garden, you will be astound by the presence of the cherry blossom that is 15m tall and 20m wide. It is so big that the flowers are almost touching the ground.
Pick a sunny day and you'll appreciate the contrast of the clear blue sky and the pink faint color of the cherry blossom. At night, it offers a completely different view. It being lit up in the dark sky, cherry tree is so elegant ant beautiful.
There's a tea shop inside the garden for you to enjoy some traditional green tea for a little break.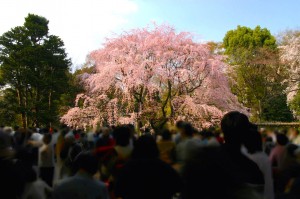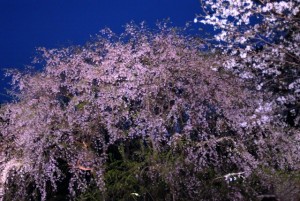 Address: 6 Honkomagome, Bunkyo-ku, Tokyo
Open Hours: 09:00-21:00 (Last entrance 20:30)
Access: 7 minutes walk from Komagome station (JR Yamanote line, Metro Nanboku line)
No 4. Ueno-onshi Park
Ueno-onshi Park, also know as Ueno Park, is a great view point for cherry blossoms in late March. Close by is Ueno zoo and museums, so you can enjoy the warm spring day, from young to old.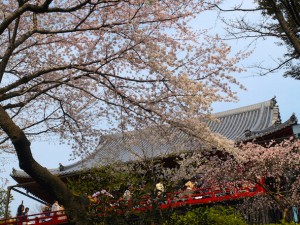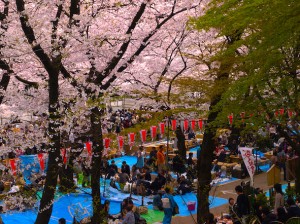 Address: Ueno-Koen Ikenohata 3-chome, Taito Ward, Tokyo
Open Hours: 05:00-23:00
Access: 2 minute walk from Ueno station (JR line, Ginza line, Hibiya line).
No 5. Inokashira Park
5 minutes away from Kichijyoji station, you are at Inokashira park where its famous for cherry blossom. Out of 500 cherry blossom trees that are planted in the park, 250 are located around the pond. Branch reaches out close to the water, which creates a beautiful contrast of the pink and the blue.
There will be many groups enjoying picnic so find a space, sit, look up, and enjoy blooming cherry blossoms.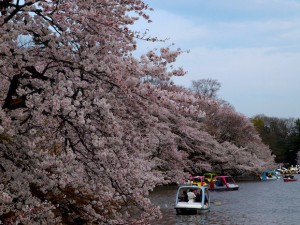 Address: Ueno-Koen Ikenohata 3-chome, Taito Ward, Tokyo
Open Hours: 05:00-23:00
Access: 5 minute walk from Kichijoji station (JR Chuo line, Inokashira line).