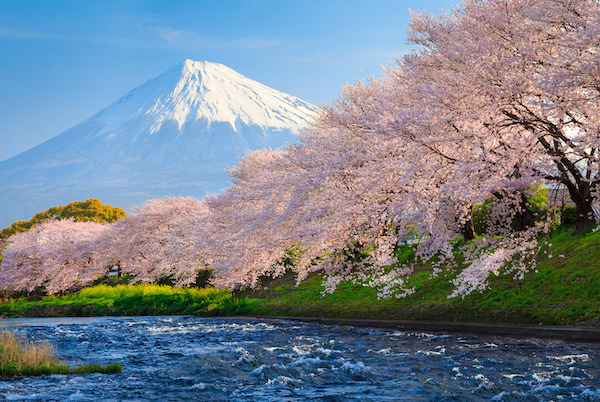 01 Mar

5 Amazing Locations for Cherry Blossom with Mt. Fuji Photo

1. Lake Tanuki (Shizuoka-prefecture)

Lake Tanuki is located in Fujinomiya, Shizuoka prefecture. It was small swamp before Great Kanto Earthquake. Due to the earthquake, agricultural water supply was dramatically reduced. To maintain level of agricultural water supply, the swamp was expanded artificially and it became man-made lake, Lake Tanuki.
Photo taken by Hiro
Address: 634-1 Saori, Fujinomiya city, Shizuoka Prefecture
2. Kotokuji
It is located in Fujinomiya, Shizuoka prefecture. Kotokuji became famous among photographers as great photo-shoot spot because of 250 year-old weeping cherry trees (Shidare-zakura). 
Photo taken by Takeshi
Address: 431 Shimoyuno, Fujinomiya, Shizuoka Prefecture 419-0305
3. Lake Kawaguchi – North coast –
Lake Kawaguchi is famous for "Fujizakura", which is a kind of cherry blossom that you can see near Mt. Fuji. There are many great locations for photo shooting at north coast of Lake Kawaguchi such as Ubugayasaki.
Photo taken by skyseeker
4. Arakurayama-Sengen-Koen
This amazing location is selected as one of best 100 famous views for Mt. Fuji. You could try to capture Chureito, which is a monument to the faithful who died in battle and cherry blossom.
Photo taken by Reginald Pentinio
Address: 3353-1 Arakura, Fujiyoshida, Yamanashi Prefecture, Japan
5. Fuji Shibazakura Festival
About 800,000 cherry blossoms are bloomed at base of Mt. Fuji. You will enjoy not only carpet of cherry blossoms but also beautiful Mt. Fuji. There is a café and restaurant with great view where you can enjoy local specialties. The festival will be opening from 16th April this year.
Photo taken by Naoki Ishi
Address: 212 Motusu, Fujikawaguchiko, Minamitsuru Yamanashi, Japan